Your Virtual Front Door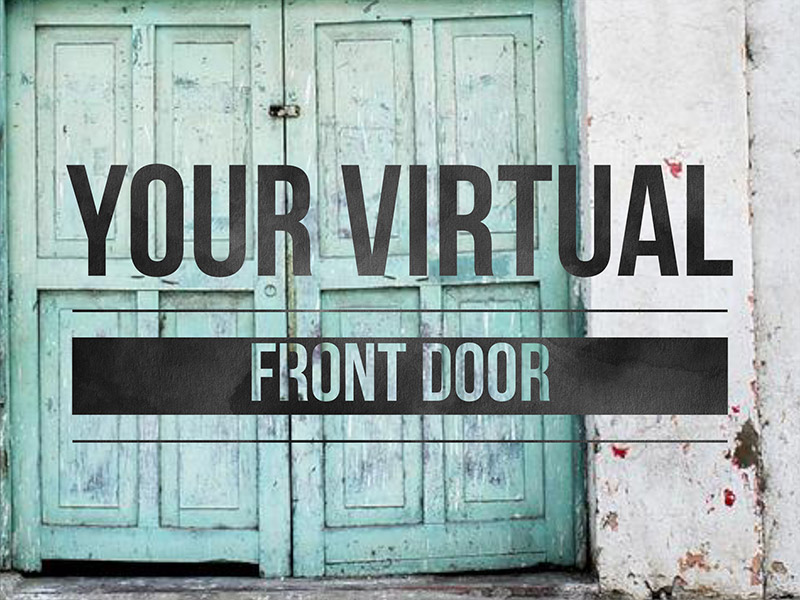 You're out on vacation and it's dinner time. You don't want to go to a chain restaurant, but you also don't know anyone to tell you where they'd recommend, so what do you do? Most likely, you'll either ask a local or pull out your phone and do a search of restaurants near you – taking time to read reviews, look at photos of the restaurant and the food, check out their website, and maybe even visit their social media profiles to see what they've been up to. We often won't physically set foot into a new place without first checking it out online. This is also the case for people when they're looking for a church.
According to a survey by Pew Research Center, nearly 60% of people who are 30 or younger will search online before visiting a church. Stanford's research states that 75% of people will decide if a business is credible based on their website design, and according to Grey Matters 17 million non-churchgoing adults are searching online for churches. Many of us already know the importance of a first impression. Have we recognized the reality, though, that often today our first impression is made online? That our website is our new front door. So where to start? Before you take your first step, the zero step is to not get overwhelmed and remember the heart of doing what you do – to share the love of God to others.
Once we've acknowledged the importance of online communication I recommend taking the following three steps:
Step One: Take a peek at (or possibly create) the website. Ask yourself:
Does it look dated?
Is it up-to-date with information like location, service times, whether you have childcare or not, and contact information?
Is it secure?
Are the photos actually your church and church family as well as of good quality?
Don't have a website but have a Facebook page? While Facebook can be a great option for sharing information, they continue to change algorithms and many churches are seeing overall reach and engagement going down, which means many people aren't seeing what you post. We'll take more about social media below, but see social media as more of a curb appeal (those around can see what you're doing and who interacts) and your website as the front door. While both are important, we want our curb appeal to encourage people closer, but, ultimately, we want to welcome people to come in.
Step Two: Search engine optimization (SEO). Think of this as whenever you search for something online, the better the SEO, the higher you show up on the results. Have you done a Google search of churches in your area? How does your church rank? Does it rank? To help you with boosting your church's SEO, we'd recommend:
Claiming your local listings. While this can be a challenging step, we'd recommend you start with Google. An example of a local listing is below. It is the information you see on the right that helps your church's SEO and teaches the search engines how to display the information correctly. You'll need to apply for the Business Profile, but once you claim or add your business through Google Maps you'll be able to manage what the outside world sees.

Once claiming or adding, is the address, website, and contact information correct? Are the photos good representations of your church?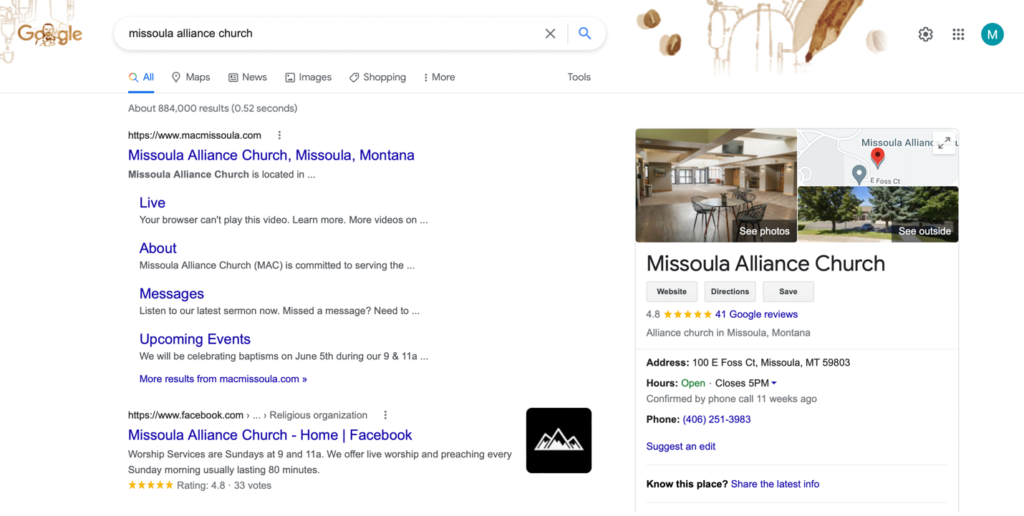 Encouraging reviews
Adding keywords on your website
While we could write a blog post about how to do this, we'd recommend reading this one from Tithe.ly as they walk you through these and more SEO steps in detail. One important note is that Apple maps continue to improve and be widely used, it would be beneficial to also ask yourself the above questions for Apple maps as well with updated information and pictures even though it won't require you to go through claiming the business.
Step Three: Take a look at social media. Many people in your church use social media, but there are also many different kinds of social media. People can discover your church through social media, but what will they see? It's wise to take some time this summer and prayerfully think about if and what a social media strategy for your church will be. If you need some wisdom on where to begin, Pro Church Tools is a great place to start.
Three steps and three months of summer, perhaps, you could plan to take on one step a month. This could be a great opportunity to tackle one step a month as you move towards a new school year next fall. As always, the District Office team is available to help and encourage you on this journey. Please don't hesitate to reach out! One such way we can come alongside is to provide a quick outsider online review of the three steps above.
Remember the words of Paul in 1 Corinthians 9:22-23, "To the weak I became weak, to win the weak. I have become all things to all people so that by all possible means I might save some. I do all this for the sake of the gospel, that I may share in its blessings." Press on!
Lindsay Wiggins