"See You In A Few Weeks!"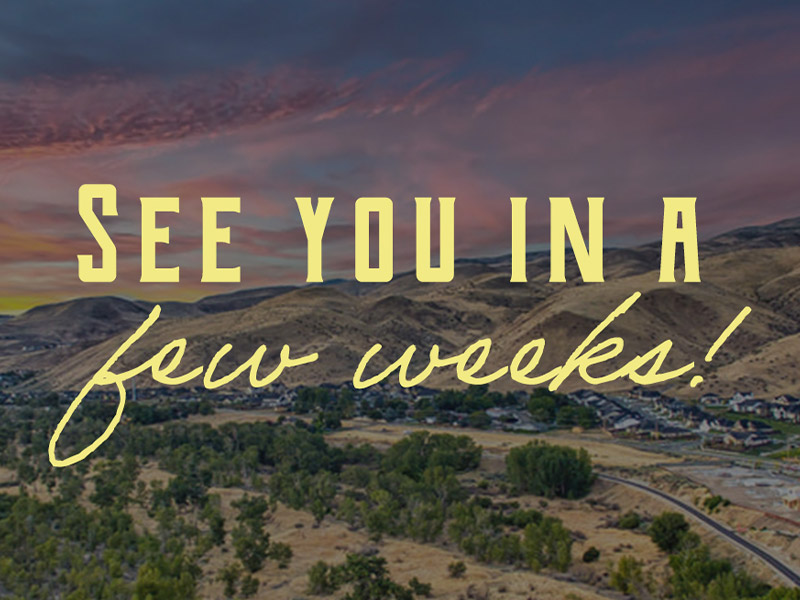 District Conference, in the Rocky Mountain District (RMD), is held every two years.  Due to Covid-19, the RMD family was unable to gather in person in 2020, rather, we had a 90 minute Zoom session.  Some might prefer that again this year — not because of the virus, but because of the time, effort and finances required to make it to District Conference, April 25 -28 at The Rock Church in Nampa, ID.  You may recall that Ignite was held in Rapid City, SD in September 2021 — so you are getting to see most of the far edges of the district if you have attended both events. Thank you for making the effort be present.  I realize it is required, however, especially this year, it will be great to gather as a district family to take care of the business of the District; be inspired by the preaching and be informed and aware of many of the things that have happened and are planned for the future if Jesus holds back His second coming!  Might I encourage you to listen to this great song, by Selah, that has been ruminating in my mind and heart as I prepare for Conference.
Some of the special things that will be happening at District Conference this year are:
Registration, at the church, from 4:00 – 6:00 p.m.
The Legislative Committee (Phil Jones, Bryan Loewen, John Reese) will be available at the church for any potential business items from 4:00 – 5:00 p.m. on Monday, April 25th.
A BBQ dinner, Monday night at the church, at 6:00 p.m. will constitute the official start of District Conference!
A special dessert gathering will follow at 7:00 p.m.
Rev. Shawn Norton, lead pastor at The Rock, will be sharing a special communion message on Tuesday morning at 9:00 a.m.
Business sessions will be held and updates will be given on Tuesday and Wednesday.
Rev. Chris Tweedy, Assistant to the District Superintendent will be speaking at the Tuesday evening service at 7:00 p.m.
Our "District Conversation" regarding the role of men and women in ministry within The Alliance will be led by Rev. Terry Smith, Vice-President of Church Ministries for The Alliance at 1:45 p.m. on Wednesday.
I will have the privilege of speaking at the closing District Conference service on Wednesday night at 7:00 p.m.
Thursday, April 28th a few men are staying over to help with the construction of a children's wing onto the Rock Church building!
A few surprises are planned, as well, making this a special time of fellowship, inspiration and information. Registration closes Sunday, April 10th! If you are not able to make District Conference you must secure the permission of the District Superintendent before District Conference.
On a personal side, I know it takes a lot of effort to get to District Conference. Your District Office team is working hard to make it worth it — not just because it's required — but because we want this to be a great time of re-connecting for many and connecting for the first time for others! I can't wait to "see you in a few weeks!"
Jonathan