Greetings!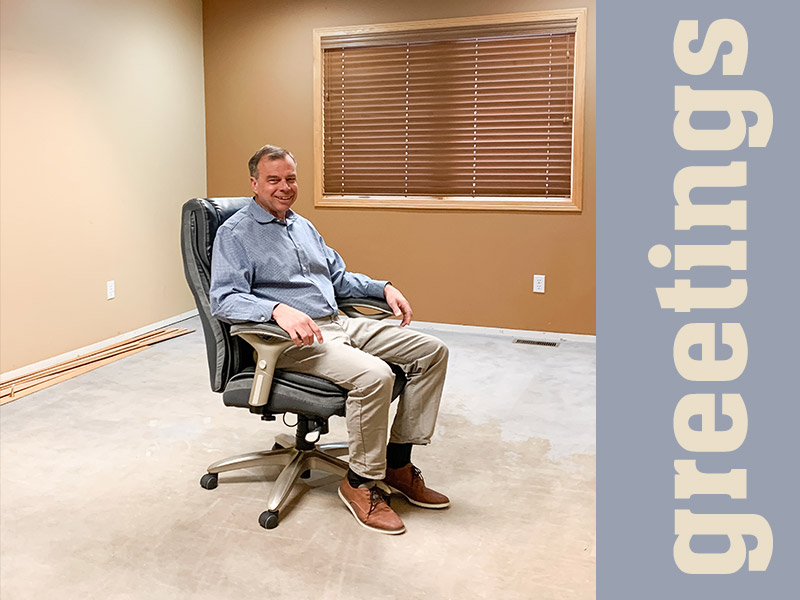 Dear Friends,

Greetings from my new workspace at the District office.  As you might have heard the office experienced a water leak last September which caused damage to the building.  Last week we moved all furnishings to storage so repairs could begin today.  I must tell you my new colleagues-Jonathan, Chris and Mary have not let this inconvenience interrupt the support they provide to the District.  They continue to press on with a positive approach to daily work and maintain their joy in serving all of you.  I am blessed to be joining an amazing team.

My role as Director for District Services includes financial management, communications oversight, technology, assisting with preparation and hosting of District Events, and facilities management.  I will also be available to assist churches with these functions as well.  I look forward to meeting Pastors and Official Workers throughout the District and serving you however I can.  Please reach out at anytime to introduce yourself or call for help.

My wife (Lee) and I relocated to Red Lodge, MT from metro Washington DC about one year ago.  We moved to Washington in 2013 and had previously lived in Minnesota for 30 years where we raised our three children.  We enjoy many of the outdoor activities Montana has to offer especially skiing, hiking, and biking.  Our home church is Red Lodge Alliance Chapel pastored by Rev. Bryan Loewen.  We praise God for leading us to this community of believers that is passionate about worshiping the Lord and sharing God's love with others.

I believe God has had His hand in directing me to my new office.  I am extremely grateful for this opportunity and will work to glorify Him in my work here. 

Blessings to you,

Scott Thorson   
651-895-6260