Montage (Alliance) Church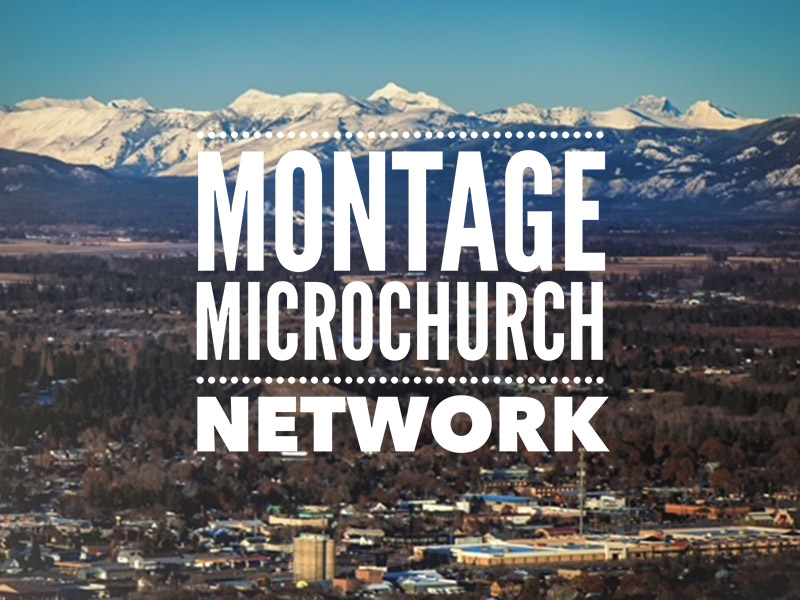 In the July RMD Newsletter it was announced that Rev. Jens (Monika) Sundem had resigned as Senior Pastor of Real Life (Alliance) Church in Bigfork, MT to lead a microchurch plant project in Kalispell, MT. This month, I sat down with Jens and asked him a few questions.
---
Why did you leave a healthy full time lead pastor position for this different expression of the church?
Obedience. Moe and I knew that Jesus wanted us to start Montage. You know in Exodus 33 when God tells Moses to lead the Israelites into the promised land, but that He would not go with them? We felt that. Real Life Church was great. We love the people, the leadership, the location, our friends, even the finances were great. But we knew if we stayed in the "church of milk and honey" it would be disobedience.
What does the microchurch network expression of the church look like practically and what do you hope to see in the next few years?
At the beginning, the microchurch network will look like a small group of people getting together to "up, in and out." Each week we will gather to worship (up), be in community (in), and live on mission (out). Prayerfully, through our time together, those in the microchurch or in the community will respond to a call of God on their lives and start another microchurch within Montage. It may be a microchurch whose mission is to reach middle school students, to love the homeless, to fight sex trafficking, or to be an incubating microchurch that brings together people on mission to their unique context. We will work hard to have a healthy balance of "up, in, and out" which requires mission (the often neglected of the three) to be at the heart of Montage. "The spirit of Christ is the spirit of missions. The nearer we get to him, the more intensely missionary we become" (Henry Martyn).
Three times a month people will gather with their microchurch and once a month all the microchurches will gather together. With this rhythm, we pray we have the best of the micro and the best of the macro. Microchurch leaders will meet every week to study the upcoming week's verses, pray, and support one another. They each will bring that truth back to the people in their microchurch and allow the Holy Spirit to apply it to each unique context. Every microchurch will be working through the same section of scripture that their leader has studied through earlier that week.
In the next few years, we pray to see God multiplying his microchurches throughout the Flathead Valley and beyond. They are simple to start, unencumbered by large budgets and complicated structure, and will be equipped by the network to accomplish God's will. We pray that they begin to snowball and replicate like the underground church.
I think of Dan, who might not be ready to be a "pastor." He works a full-time job, has a family, doesn't have time to study and prepare a weekly sermon or shepherd a traditional church. Yet he loves Jesus, loves people and has been growing consistently. I see God's call on his life. With a little different structure and some consistent equipping he could lead people to "up, in and out." Dan is a future microchurch leader.
I think of Ann (not her real name), who does not love Jesus and has had very poor experiences with the traditional church. Her kids are good friends with our kids. Recently, she has been going through some hard family times. My wife and I have sat around the dining room table talking about her ex-husband, child support, and how Jesus can help her with anger and bitterness. God is on the move in her life and I think she may be starting to see it. While she wouldn't set foot in a church building, this expression is one where she would be willing to come, build friendships with Christians, learn about Jesus, and hopefully see how deeply she is loved by him.
Why did you choose the name Montage?
Montage Microchurch Network is an expression of many smaller pieces brought together to make a whole. Each microchurch represents a beautiful piece of music or film, unique to itself, brought together with others to make a new composite whole. We want every person to see, hear, and experience the gospel of Jesus Christ in the Flathead Valley and the world.
How can your RMD family be praying for you and this new endeavor?
Please be praying that people are changed through Montage. Ultimately, we want people to love Jesus and we want to be a part of that plan. Be praying for the "Dans" and the "Anns". Also, be praying that I clearly hear God's details and lead Montage obediently. I can be tempted to take a God given vison and try to accomplish it in my own strength. Lastly, at the beginning of this adventure, please be asking God for people to join us prayerfully, financially, and physically.
---
The District Team is working closely with Jens to assist in various ways (including helping financially with startup needs – thank you for your faithfulness in giving to the District Advance Fund), but please share this news with your church, have a time of prayer for them, and consider ways that you can be an blessing an encouragement to them. It's going to take all kinds of churches if we're going to reach all kinds of people with the good news of Jesus and I'm excited to see what the Lord will do through Montage in the coming months and years!
Together with you,
Chris
ctweedy@rmdcma.com or (406) 647-2764