Let Them Ask!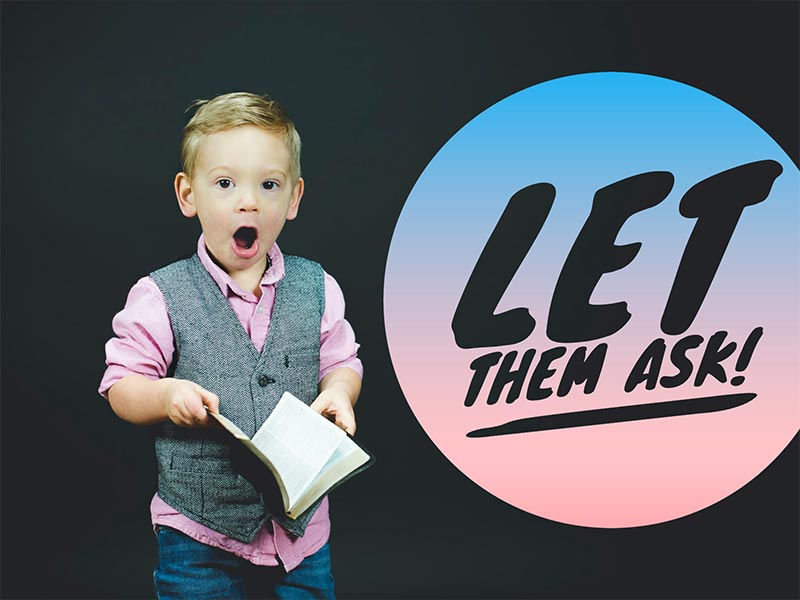 Have you ever noticed that kids have big questions about God and for God? I believe that because we were created by God, for God, we are born searching for Him. Kids show this search for God in the way they ask questions about Him.
"Can God see me all the time?"
"Why did God make my hair curly?"
"Is God real?"
"Does God think about me?"
"Why does God love me so much?"
I've worked with kids full-time since 2003 and their questions and search for God humble me all of the time. They are searching for Him. Even those kids who look like they know it all are looking for God and have deep questions about Him. My faith has grown exponentially through watching kids search for God and find him.
Jeremiah 29:13, "you will seek me and find me when you seek me with all your heart."
May I suggest you encourage the kids in your church family to ask the big questions about God? No question is too big or too small. You might consider providing a place for them to turn in their questions about God. I promise you'll be amazed at the depth of their questions. Kids are just small versions of adults. Most often they're asking out loud the same questions adults are silently asking.
On a side note, it's not our job to answer all of their questions about God, but rather provide a safe place for them to question and wrestle. It is in that wrestling that they find the God they've been searching for. Keep pointing the little ones under your care to God over and over again. He is faithful.
~ Melissa MacDonald