Elected Church Treasurer? Don't Panic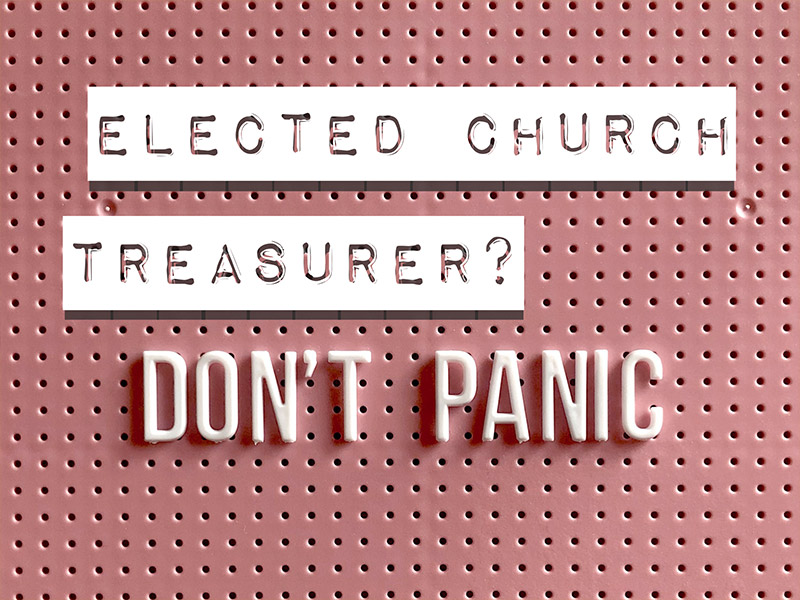 If you are a newly elected church treasurer or already performing the role for your church, I encourage you to check out the resources available for treasurers on the RMD website. Access rmdcma.com and log into the member's page. Scroll to the Administration section and note the column called treasurer's resources. Here you will find several very helpful sources of information.
Whether you are serving as treasurer of a large congregation or a small one this stewardship role can be rewarding if done well. The Alliance has produced a "how to" guide called Finance Manual for Alliance Treasurers (and pastors) which you will see on the treasurer's resource page. At 86 pages, it may look overwhelming, but it is well worth spending the time to read. Here are the chapter titles:
You and Your Team
Checks and Balances (Internal Controls)
Receipting the Money
Sending Money to the National Office
Budgeting, Recordkeeping, and Reporting
Payroll and Pastoral Remuneration
Reporting to the Authorities
Risk Management
Misc. Matters
As you can see, the manual is quite comprehensive. In addition to the information in the chapters, the manual contains an appendix with additional tools including a treasurer's checklist, audit checklist, and records retention schedule.
Page 17 of the manual contains a section on the Annual Audit. With summer approaching, this might be a good time to consider conducting an audit or financial review. The audit may be performed by an outside professional accountant or your governing board can appoint several individuals from the church to conduct the audit. As stated in the manual, the audit is not a reflection on the competence or integrity of the treasurer. Rather, it is a routine procedure designed to protect both the treasurer and the church. A best practice is to conduct an audit every year.
Treasurers, please take time to check out the resources available on the RMD website. If you have questions or would like assistance with your role, give me a call or send me an email at the District Office.
Scott Thorson
sthorson@rmdcma.com