7 Year-End Administrative Items You Can't Forget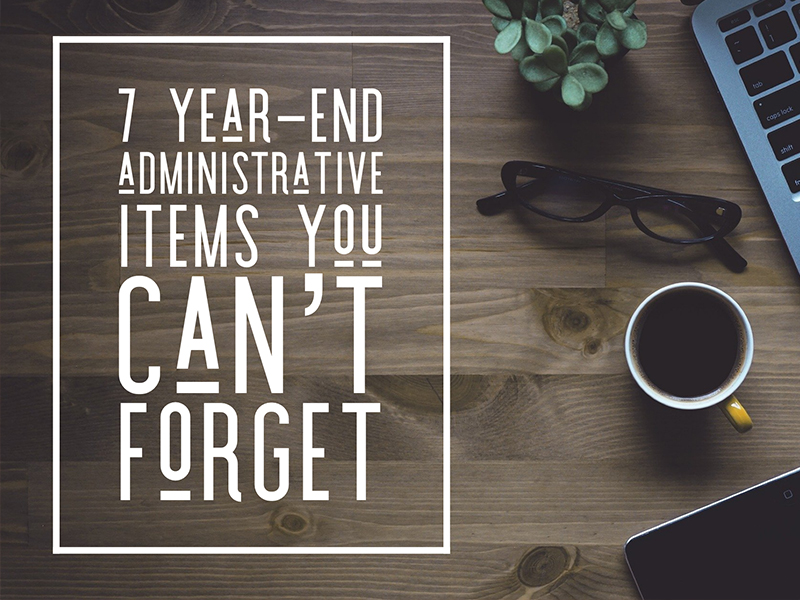 At the end of a calendar year it's easy to forget important church administrative tasks because, well, they only happen once a year. Here is a quick list of the most common items* that every church will need to ensure are handled as they move into 2021.
W2s. All church employees, including pastors, should receive a W2. Because of the dual status nature of clergy workers, special attention should be given to make certain their wages are reported correctly.
1099s. If a church has paid $600 or more to an individual for services performed, and this person is not an employee, a 1099 must be filed. This includes supply speakers and most love offerings, including gifts to IWs on tour. (Note that a new 1099-NEC form is being used that replaces the 1099-MISC Box 7 wages.)
Housing Allowance. Hopefully housing allowances for clergy staff members were set at a board meeting in December, but if not, they should be set immediately as they cannot be retroactively declared.
Payroll Changes. This is the time of year to ensure that all adjustments to compensation, tax withholding, and other contributions (HSA, retirement, etc.) have been communicated to the payroll administrator.
Tax Deductible Contribution Statements. For donors who contribute more than $250 in a calendar year, a statement detailing those gifts must be provided by January 31st. This statement should include the contributor's name and address, the date and amount of each gift, the church's name, address and EIN, and a statement that "no goods or services were provided, only intangible religious benefits."
Monthly & Quarterly Tasks. In the midst of all the year-end items, don't forget that normal quarterly reporting (941/944, unemployment, etc.) and monthly tasks (reconciliations, financial reports, etc.) still need to occur.
Financial Audit. This is the time of year to plan a review of the church's finances. Outside firms can be employed, but it is often difficult to find companies who will provide services to small organizations and the cost can sometimes be prohibitive. An acceptable alternative is to "trade audits" with another church. A team from each church meets together, reviews the necessary materials for the other church, and generates a report of their findings. An Audit Checklist and Sample Audit Committee Report can be found in the Administration section of the Members page on the RMD website.
Bonus Item for Alliance Churches: Don't forget to complete your Annual Report. This report only takes 10-15 minutes and is exceedingly helpful to both the National and District leadership teams.
If you have questions regarding any year-end administrative task, please feel free to call or email Chris anytime.
*Note: this is not a comprehensive list of year-end items and your church may have additional items that require attention.