Keeping The Familiar, Fresh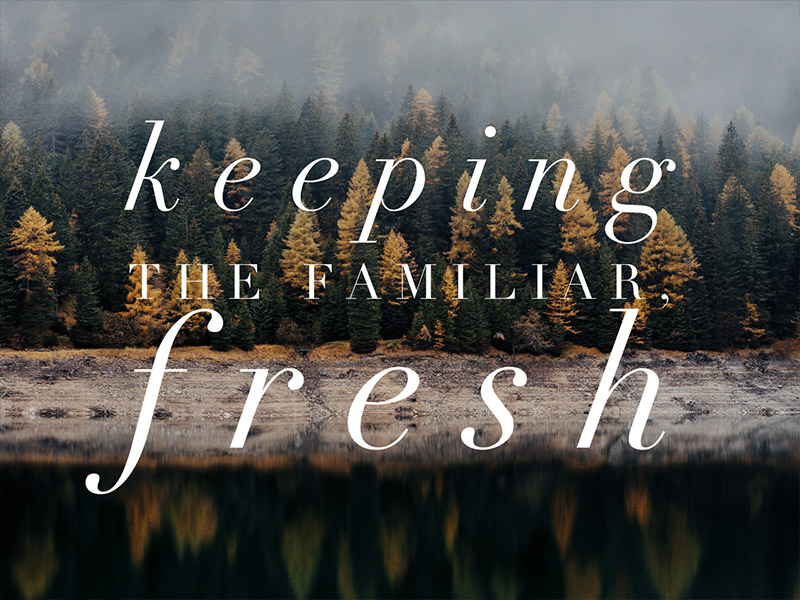 As we head into the last two months of 2021 (let that sink in, Twenty Twenty-One!), I am reminded again of the need to keep the familiar, fresh!  Soon, we'll be working our way through Thanksgiving and then Christmas.  Plans likely are well underway in your ministry and church situation to be ready for these holidays.  Special gatherings, services, events, maybe a dinner at the church are generally thought of and put together for these seasons.  Turkey, stuffing, potatoes, gravy, corn, green bean casserole, fresh rolls or buns and pumpkin pie likely will be on many a person's table in your community.  Sooooo, it is possible to keep the familiar, fresh!
How will we do that when it comes to preaching during Thanksgiving and Christmas? Perhaps a way forward is to go back to the basics of preaching. For many years I have used the PRD method: Preparation, Research and Delivery. Eric Oleson mentioned one time to me recently about his method: Pace, Pause and Punch. Whatever way you actually bring a message to life, there are at least three key components.
First, we have to be prepared! Isn't it amazing all the things that can, at times, take priority over preparing for a sermon? Sometimes things happen that you can't plan — a funeral, someone "drops by" the office or your home, another emergency type situation comes up that demands your presence and attention. Then there are the things that can suck time away from us that we might do to ourselves — daydreaming, working on something else of lesser importance when we should be preparing for the sermon, being on social media or engaging in other online activity. Some of these "things we do to ourselves" can really eat up time and take away valuable time contemplating and letting the Word of God "marinate" in our hearts and minds. When I think of preparation for a sermon, I think of asking God for a passage or theme that He would want me to speak on to the particular group of people I'll be with. I also think about what are the resources that I'll need for this particular message: illustrations, perhaps a video or some other illustration whether that is a story or an object.
Secondly, I think of what is the actual research that needs to be done. For me, I start with the Bible — I know that sounds funny, but you'd be surprised how many guys start with other people's thoughts about the Bible passage, first and then look what the Bible says. I, also, have my "set of books" and commentaries and I do use them — however, it is after having looked at the Scriptures, carefully, first. Recently, I have had a few guys talk to me about Logos software and how great it is for them. Some just get a basic package and others have the full-on version. At first, I thought, "man that sounds expensive" and then I thought about all the books I've bought through the years that are at the office, at the house — and packed away under the house! In the end, likely, everybody has their own way of doing their research.
Thirdly, delivery matters! I've seen guys just starting out do great with their delivery — and guys who've "been around" struggle. And vice-versa! No matter what, we can all work on our delivery skills. Eric's pace, pause and punch is a good reminder. For me, I like to vary the voice, speed up or slow down the pace and use humor when appropriate. For some the next thought comes naturally, for others it might be a new one. I learned a long time ago, study other communicators! Notice, I did not say imitate someone else, however, by watching others, anyone can pick up clues, helps and little nuggets that can help you become a better communicator. I've seen some some guys who need to "amp it up" a little bit — not be someone you're not, but have a little "oomph" as people used to say. I've seen some guys who need to "tone it down" — kind of like the singer who's so loud it is painful for others around him. Again, the point is, we can all work on our delivery skills — and become better communicators of THE most important message of our time — God's Word!
As I write these things to you this month, I am reminded that all of these things are true for me, too! I don't want to be the same preacher that I was five years ago. I want to continue to grow and mature in my communicating of God's Word. I need to continue to grow and mature in my communicating of God's Word, so that which is familiar in a season like we're entering, will remain fresh!
How thankful we can be that Hebrews 4:12 is true! For the Word of God is alive and active. Sharper than any double-edged sword, it penetrates even to dividing soul and spirit, joints and marrow; it judges the thoughts and attitudes of the heart.
Lori and I wish each of you a Happy Thanksgiving!
—Jonathan