Insurance Renewal Considerations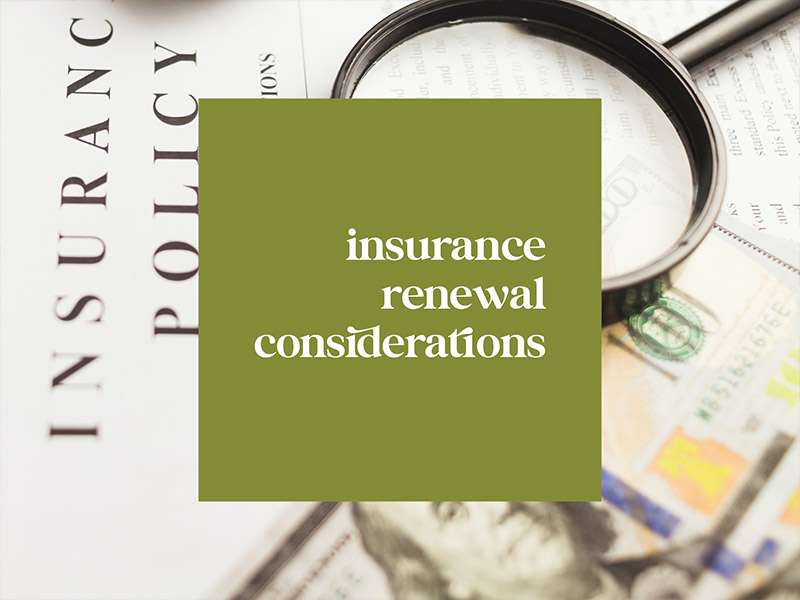 Managing the church insurance policies is probably not at the top of most pastors' priority lists.  Maybe this task is delegated to a board member or an insurance expert within the church, but someone needs to be focusing on ensuring the church has correct insurance coverage to protect its assets and manage risk.  Without proper insurance, a loss due to a natural disaster or accident could be devastating and result in financial difficulties. 
Most insurance policies are renewed automatically on an annual basis. The renewal date should be tracked on a calendar so someone can consider important factors and prepare for the renewal. Changes to the policy may or may not be needed, but the policy should not be automatically renewed without thinking through a few things. Here are a few questions to consider when your property insurance renews:
Has the coverage on your building kept up with the replacement cost? In other words, if the church was destroyed would the payout from the insurance company be adequate to restore the building?
Any significant increase in value to the contents in buildings?
Any new equipment (playground, for example) that might drive higher liability needs?
You may want to consider increasing or decreasing your deductibles. The higher the deductible, the lower the premium will be. If the church has significant reserves on hand the deductible might be increased.
At times it might be helpful to obtain quotes from other insurance companies to ensure you are getting a good rate. This may not need to be done annually but would be a good thing to do every couple of years.
Take advantage of your renewal date and dig into your policy to ensure the policy continues to meet your needs.  If I can help with anything related to insurance, do not hesitate to contact me at the District Office.
Scott Thorson