Best Practice – Annual Audit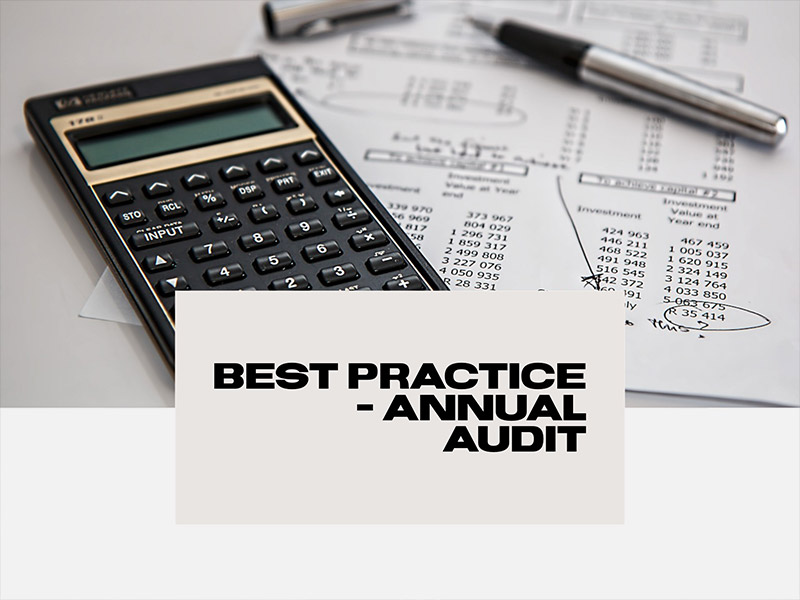 Checks and balances (aka internal controls) are procedures that safeguard your church from deliberate or accidental mishandling of money.  They reassure the church leadership team and donors that church finances are being handled with integrity and that reporting is accurate.  Strong internal controls also protect the finance team from accusations of mismanagement. 
An annual audit or financial review is an example of internal control that should be adopted as a best practice by churches.  The audit consists of a variety of tests, questions, and review procedures.   The process validates whether all financial transactions have been properly accounted for and have been represented fairly in the financial reports.  The review may also evaluate the strength of the church's procedures and financial process and the audit team may have suggestions for closing gaps. 
Once the books have been closed for the previous year an audit team should be appointed by the churches governing authority. It is helpful if those appointed have some background in finance or accounting. However, this is not a firm requirement. If not obvious, the individuals appointed to conduct the audit should not be involved in the regular handling of church finances. If practical and logistically feasible you may consider a reciprocal agreement with another church whereby you each send a team to the other church to conduct the financial review.
A leader should be appointed for the audit team and be responsible for training the team on the audit review process.  The Finance Manual for Alliance Church Treasures (and Pastors) contains a sample audit checklist that can be used to drive the audit process.  These are the high-level goals for the audit:
Verify giving and other income can be accounted for. 
Ensure bank account reconciliations have been completed.
Check to see that there is the proper authorization for disbursements, and supporting documentation exists. 
Verify all payroll and tax reports were filed on a timely basis. 
Investigate any unusual items. 
The Audit Checklist goes into more detail regarding the steps involved with the audit.  You can find a copy here. 
Once the audit is complete a summary report of findings should be provided to the church board. A sample report can be found here.
In the business world, it is common for employees to fear a visit from the internal auditor.  However, if financial managers are doing their best to follow procedures and operate with integrity there is no reason for this fear.  An audit can be extremely helpful and improve processes.  It may even result in additional resources or tools advantageous to the finance team.  The purpose of an audit is not to point fingers or find blame, but to help.  Church treasures should welcome the team conducting the annual review. 
If you need assistance conducting an annual audit of your finances I am available to help.  Please contact me.